The fuctions and features of Folded Face Mask machine
The Folded face mask machine, also known as C-type face mask machine, is the fully automatic machine for producing the folded face mask by using the ultrasonic technology to bond the 3 to 5 layer PP non-woven, activated carbon and filter materials, cutting the folded mask body to process 3M 9001,9002 mask body, etc. According to different raw materials used, the produced face masks can have different standards, such as FFP1,FFP2,NP5. Re-use ear line welding machine to weld the ear line to the body, to complete the production of folding masks. The ear line material is elastic non-woven, make the wearer`s ears comfortable, without pressure, the filter effect of the mask filtration fabric is good, perfect fit human`s face, can be used in the high-pollution industries, such as the building industry, the mining industry.
The fuctions and features
The machine automatically blank, trimming and folding welding process, the replacement of the mold can be processed folded masks of different shapes of the body
PLC automatic controlling, automatic counting.
Easy conditioning and convenient refueling.
The mold uses the extraction method for the rapid replacement of mold and producing different types of molds.
The whole machine adopt aluminum alloy, the parts after plating processing, make the whole machine beautiful, strong and doesn`t rust.
Advanced equipments for feeding and rewinding the materials. High stability, low failure rate.Technical DataFunctions and Features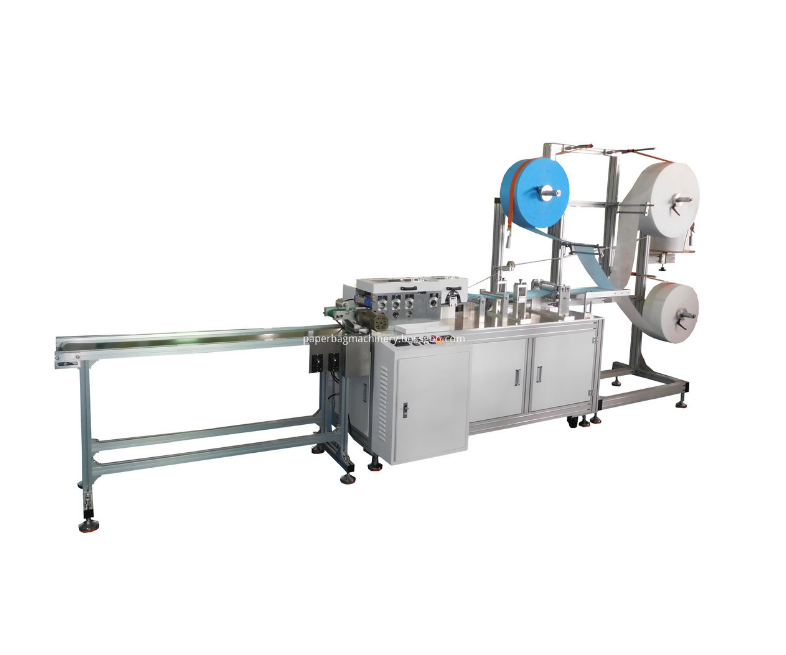 The disposable mask machine, produced by DongGuan FeiYang Packaging Machinery Equipment Co Limited, is composed of non woven roll rack and forming system. The forming system includes embossing, pressing, cutting and conveying.The rollers on the rack can be adjusted to match the forming system. The machine has high efficiency and less waste, which steadily speeds up the collection and conveying of the mask body. The rack and forming system matching nose bridge insert and ear loop welding machine can make up a complete processing line, which improves productivity and benefit to create greater profits.
If you are looking for Paper Bag Machine, Paper Bag Machine, Paper Handle Machine, Paper Slitting Machine, Paper Rope and Paper Bag, please no hesitate to contact us.